Mobil bathroom
Portable Restrooms
Regular Standard Portable Toilet
These units may be delivered in quantities of 1 to 250 plus depending on your needs.
Each unit is cleaned and ready for use when delivered.
Standard units work well for special events and construction sites.
The construction units are not used for our special events.
The base of the unit is 4ft by 4ft and about 8ft tall.
Our courteous drivers will unload and place the units for you.
Remember to maintain access for our truck to service the unit once it is placed.
For all construction and commercial sites the ANSI standards call for one portable toilet per 10 workers for a 40-hour work week.
---
Hand Washing Stations
We offer water hand washing stations as well as water free sanitizing dispenser stations.
The water wash stations also have a paper towel dispenser.
Handicap (Barrier Free) Portable Toilets
We offer handicap toilets for wheel chair access. Check for availability.
The units require more space to haul and place.
Also, please note that the tank on a barrier free handicap can is smaller than a regular unit. For events with more than 20 people always have at least 2 additional regular units.
---
Luxury Restroom Trailer
These are the ultimate for your special event or exclusive remodeling project where your client needs the most comfort for their guest.
The units are self-contained and have heating and air conditioning for all weather events.
They feature mirrors, running water and private stalls.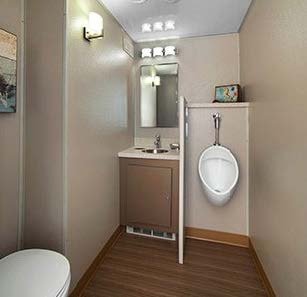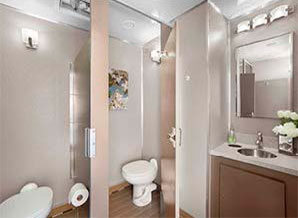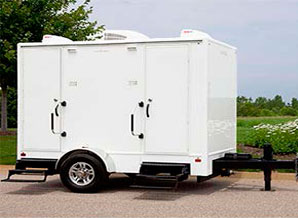 ---
Highrise Halfcans
These are used to have facilities for workers on buildings under construction. They are designed to fit on the construction elevators. These must be brought down for each service day at a designated time.
Lift Eye Cans (moved by crane on site)
These are regular units equipped with a lifting device. The contactor is responsible for maintaining and inspecting the unit for damage before use. These are to be moved unoccupied. Never lift or move more than one unit at a time.
---
Holding Tanks
Holding tanks are generally for office trailers, shower trailers and other temporary restroom facilities. Our tank holds 250 gallons of waste and are pumped out a minimum of one time per week and billed monthly.
---
High Volume Tank Pumping
We can pump out your waste water tank. Just call for a quote based on the size of your tank.